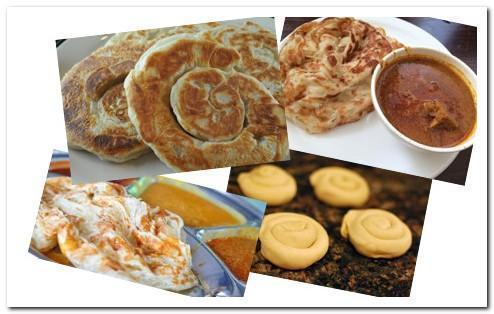 Roti means bread in Malay and Roti Canai or Roti Prata is a crispy flat and puff bread, it is an Indian influenced food widely found in Malaysia and Singapore. The making process of Roti Canai is very interesting (Tossing and spinning, watch video.). It always serves hot with curry. The curry can be chicken curry, fish curry or bean curry. But some people serve it with white sugar.

Sift the flour and salt together.

Knead flour and ghee with water or milk (add a little at a time) until becomes a soft, smooth and elastic dough.

Put dough in an oiled bowl, cover with plastic wrap and let it rest for 1 hour.

Oiled your hand and rolling pin.

Divide dough into 8 equal parts.

Shape it into balls.

Grease a clean working surface.

Working with one ball at a time. Flatten each ball with a rolling pin as thin as you can. You can pull the edge of the dough until the maximum and the dough become very thin and you can see through it. If it has some holes, it is no worry.

Roll up dough from the long end. Twist and circle the long dough into a round coil. It should look like a spiral spring. Press it lightly onto the top and make a flat-bread. (Watch Video)

Continue pressing it until the size and thickness desired.

Pan fry in a greased pan over medium-high heat for 1 – 2 minutes each side or until puffed and golden brown.

600 grams flour

1 teaspoon Salt

1½ cup water or milk


½ cup ghee or margarine